Polymer Cement Putty
About
Characteristics
Applications
General
Download Brochure
With continuous R&D and technological upgrades, RPC, under the brand WALLRICH has launched a premium quality polymer cement putty, much superior to the many existing brands of Wall Putty available in the market.
WALLRICH polymer cement putty is a unique composition based on finest quality white cement with highly adhesive and unique polymers, cellulose, pigments and many other additives. It is suitable for application on both exterior and interior walls for beautiful, smoother, stronger and undulation free surfaces.
Alongwith providing finishing to the plastered walls, it also provides a concrete base for application of all types of paints. It also provides protection to the walls from dampness and prevents paint peeling due to its water repelling properties.
This technologically advanced and cost-effective putty is produced using the best in class imported polymers and additives and an advanced manufacturing process making it better than any other ordinary putty. Other differentiating factors also includesuperioradhesive-strength, antifungal, anti-flaking, anticorrosive and Water resistant characteristics. It prevents water seepages and requires no curing. It reduces paint consumption per square feet, prevents frequent repainting, is UV resistant and provides the best protection for expensive paints. In many cases even avoid the requirement of paint. It provides smoothest finish and fillstiniest of hair cracks and pinholes, making it extremely workable, compatible and durable.
Superioradhesive strength
Antifungal
Prevents water leakage
Anticorrosive
Anti-flaking
No curing required
Reduces paint consumption
UV resistant
Odourless
Protection for expensive paints
Smooth finish
Fills hair cracks and pinholes
Nontoxic
Non-flammable
Compatible
Durable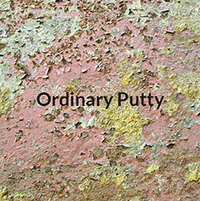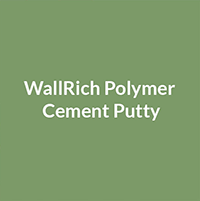 Wall Rich wall putty has a variety of applications and can be used on concrete, rendered walls, hollow blocks, pre-cast walls, concrete ceilings, calcium silicate bricks, aerated light-weight blocks etc. It is also suitable for repainting and plastering of old walls. It is best for both interiors and exterior use.
Preparation & Application
Prior to applying putty, well prepare your surface. Clean the surface thoroughly to remove dirt, chalk, dust and residual particles of previous paint using wire brush or emery paper.
Dampen the surface to be plastered with sufficient quantity of clean water.
Mix the putty with waterto prepare a uniform paste by slowly adding approximately 35% - 40% water by volume.
Thoroughly stir the mixture to avoid forming lumps.
Allow the paste to stand for about 10 minutes to allow the polymers to dissolve. Stir the paste again for a few minutes.
After thoroughly mixing, apply first coat of Wall Rich putty from bottom to upward direction uniformly which would be about 1.5mm thick. Blade can also be used for uniform application and minimum wastage.
Wait for 2-3 hrs till the first coat dries up completely.
Apply the second coat of putty, once the first coat is completely dried and smoothened. The thickness of second coat would be about 1mm.
Leave the surface to dry for at least 10-12 hours.
Once the surface is dried, rub the surface with moist sponge to remove any type of marks and with water proof emery paper for smooth and fine finish.
Precautions during usage
Though it contains non-toxic materials but still care should be taken to avoid dust inhalation while mixing and handling. In case of contact with eyes or mouth, wash with plenty of clean water and seek medical help. Persons who are allergic to cement/cement products should take proper precautions before use.
Coverage
The coverage area on smooth normal plastered wall is approximately 8 to 14 sq. ftper kg with two (double) coats. The coverage area, however, will depend upon the quality of the surface.
Storage
Should be stored in a dry place. If stored well, has a shelf life of 12 months.
Packaging
Available in 1kg, 5kg, 20Kg and 40kg pouches and bags.
Testing and Certifications
An ISO 9001 – 2008 certified company.
Walll Rich Polymer cement putty – A product tested and certified by NSCC India.